2020 Three Rivers Arts Festival Juried Show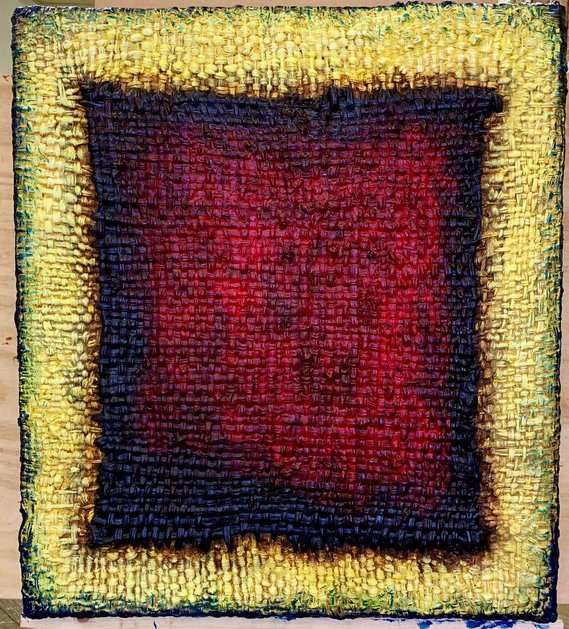 "Dhaka"
In Dhaka, Bangladesh, in 2012 a garment factory collapse killed 117 people, in 2013 over 1,000 people died at the expense of fast fashion when a building housing several garment factories collapsed. Most were crushed between slabs of cement in the stair wells.
"Dhaka" 2019, 47" x 53", acrylic on woven torn t-shirts
2020 Three Rivers Arts Festival Juried Show
Starting
Over 200 Nails were hammered by hand around outside and inside of a discarded 47" x 53" - 2x4 wood frame to create a structure as a base for the weaving.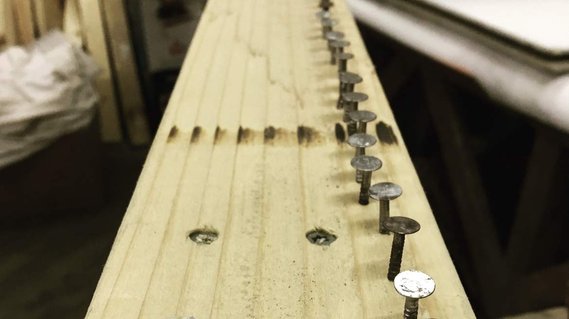 Weaving
Old t-shirts were torn into strips to use for weaving the alternative canvas. A time consuming and mundane process that consumed hours and days of repetitive movement. Much like the workers in fast fashion factories. The outside portion of the unique discarded frame was woven first using random strips of torn fabric.
Tearing and Weaving
The tearing and weaving of cloth continued to fill in the center section of the frame until the entire frame was covered with woven fabric.
Gesso
After much deliberation, and input from fellow artists, the alternative canvas painting preparation began with just under 2 gallons of gesso applied in several coats with a brush. Each stage of this process created a moment to stop and reflect. The canvas's transition from a woven fabric, to even half gesso, could have been a stopping point.
Color
The weaving had a distinctive center and frame. The vision of a large red stain took shape first and then the yellow in the outer portions. By applying thin layers of color the texture of the weaving was enhanced.